Free Attunements:
Dolphin Reiki (none)
Usui Shiki Ryoho Level One (Must email me lesson one)
Usui Shiki Ryoho Level Two (Must email me lesson one and two)
See the course page for other attunements I offer for a small fee.
Please allow 48 hours for e-mail replys, I check emails Monday - Fridays. Weekends only if I am home.
Be sure to fill in the subject of the email (I don't open emails unless the subject line is filled because of spam and viruses.)
Please put on each email:
You full Name
The attunement you would like .
When I reply to your email I will either email you the manual or the link to the online manual and the lesson.
Each Level of Usui Reiki has an easy lesson you need to do it and email it to me (this is not a test it is just my way of going over the manual with you Please use my manuals because that is how the lessons is set up.)
Thank You
You Must email me the lesson/s before your attunement. No exceptions
Please do not ask to receive attunements for free that are not listed on this page.
Free attunements do not come with certificates or paper manuals. If the type of attunement I offer for free has a lesson then you will be required to do the lesson.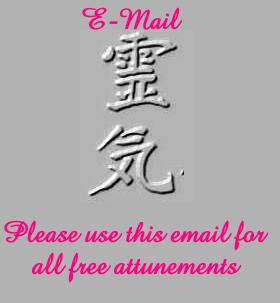 lightworkr43@yahoo.com (You do not need outlook express but if you click this link it may bring up outlook express)